Quiksilver
Quiksilver 5/4/3 Prologue SR Boys Back Zip Black EQBW103061
Regular price
£114.95
£0.00
Tax included.
Shipping
calculated at checkout.
Features:
GBS (glued and blindstitched) seams for maximum flexibility and minimal water entry

Back zip entry system with YKK® #10 plastic zip

Hydrowrap adjustable neck closure system for a watertight seal

Composition: 100% Nylon

NB: Cuff colour and back zip colour will vary depending on the size of wetsuit.
SIZE GUIDE: BOYS WETSUITS
| | | | | | | | |
| --- | --- | --- | --- | --- | --- | --- | --- |
| SIZE | HEIGHT (cm) | WEIGHT (kg) | CHEST (cm) | WAIST (cm) | HIPS (cm) | NECK (cm) | INSEAM (cm) |
| 2 | 112-117 | 18-22,5 | 54,6-59,7 | 48,3-53,3 | 57,2-62,2 | 25,4 | 39,3-44,4 |
| 4 | 117-125 | 22,7-27,2 | 58,4-63,5 | 50,8-55,9 | 61-66 | 26,7 | 43,1-48,2 |
| 6 | 125-132 | 27,2-31,7 | 62,2-67,3 | 53,3-58,4 | 64,8-69,9 | 27,9 | 46,9-52 |
| 8 | 132-141 | 31,7-36,3 | 66-71.1 | 55,9-61 | 68,6-73,7 | 29,2 | 50,8-55,8 |
| 10 | 140-148 | 36,3-40,8 | 69,9-74,9 | 59,7-64,8 | 72,4-77,5 | 30,5 | 54,6-59,6 |
| 12 | 148-155 | 40,8-45,5 | 73,7-78,7 | 63,5-68,6 | 76,2-81,3 | 31,8 | 58,4-63,5 |
| 14 | 155-163 | 45,5-50 | 77,5-82,6 | 67,3-72,5 | 78,7-83,8 | 33 | 62,2-67,3 |
| 16 | 163-170 | 50-54,5 | 81,3-86,4 | 71,1-76,2 | 81,3-86,4 | 34,3 | 64,7-69,8 |
| | | | | | | | |
| --- | --- | --- | --- | --- | --- | --- | --- |
| SIZE | HEIGHT (ft) | WEIGHT (lb) | CHEST (in) | WAIST (in) | HIPS (in) | NECK (in) | INSEAM (in) |
| 2 | 3'8"-3'10" | 40-50 | 21.5"-23,5" | 19"-21" | 22,5"-24,5" | 10" | 15,5"-17,5" |
| 4 | 3'10"-4'1" | 50-60 | 23"-25" | 20"-22" | 24"-26" | 10,5" | 17"-19" |
| 6 | 4'1"-4'4" | 60-70 | 24,5"-26,5" | 21"-23" | 25,5-27,5" | 11" | 18,5-20,5" |
| 8 | 4'4"-4'7" | 70-80 | 26"-28" | 22"-24" | 27"-29" | 11.5" | 20"-22" |
| 10 | 4'7"-4'10" | 80-90 | 27.5"-29.5" | 23.5"-25.5" | 28.5"-30.5" | 12" | 21.5"-23.5" |
| 12 | 4'10"-5'1" | 90-100 | 29"-31" | 25"-27" | 30"-32" | 12.5" | 23"-25" |
| 14 | 5'1"-5'4" | 100-110 | 30.5"-32.5" | 26.5"-28.5" | 31"-33" | 13" | 24.5"-26.5" |
| 16 | 5'4"-5'6" | 110-120 | 32"-34" | 28"-30" | 32"-34" | 13.5" | 25.5"-27.5" |
MEASURING POINT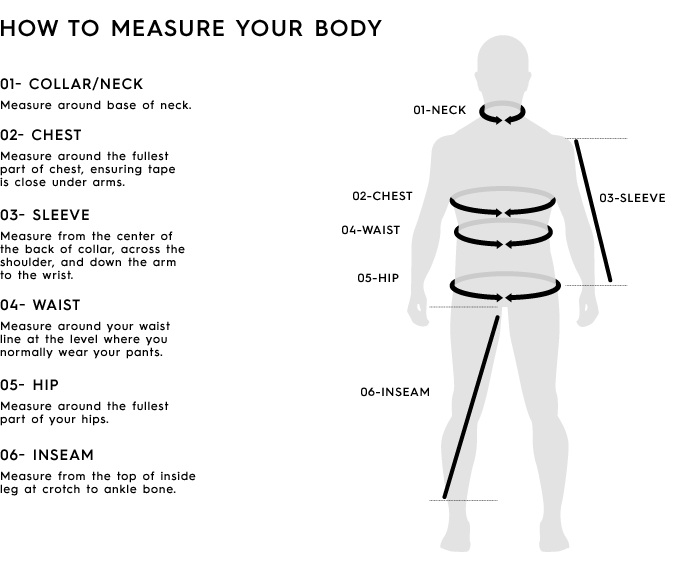 ---
More from this collection